The 8 Most Common Auto Repairs Services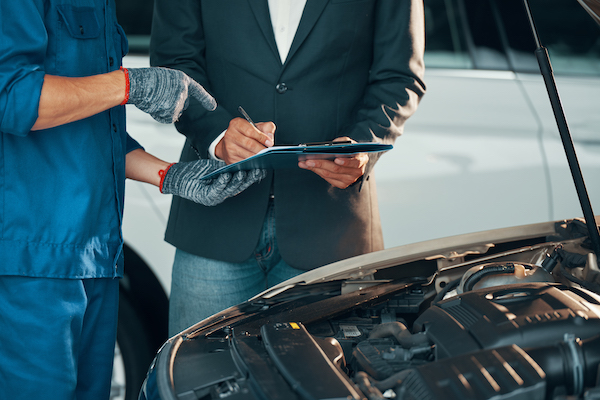 You never know where the road may take you or what pit stops you must make along the way. Sometimes, life throws a wrench in your plans, and nothing does that more than an unexpected car repair.
Here at Tire Works Total Car Care, we know a thing or two about auto repair and have compiled a list of the most common auto repairs we see and work on. Though many more car repair needs could make the list, these are what we see most often.
1. Oil Change and Oil Filter Replacement
If you know anything about taking care of your car, you probably know an oil change is one of the most common auto repairs. By replacing the oil and oil filter in your car every 3,000 to 5,000 miles you drive, you can greatly reduce the risk of more significant car repairs down the road.
Your oil acts as a lubricant for your engine and keeps everything running smoothly. As you drive, however, the engine oil collects debris and breaks down naturally from use. Once this debris builds up, it will saturate the oil filter, and both the oil and filter need to be replaced. Keeping up with this common auto repair will help ensure your engine gets the proper care it needs.
2. Brake Repair
One of the most important auto repairs for safe driving is brake repair. Your brakes are a modern marvel of engineering that quickly and smoothly slow the momentum of your car and bring your car to a stop. Over time, your brake pads and rotors will wear down from use.
As the brakes are your car's best defense against an accident, it's essential to keep them well maintained by a professional mechanic. At the first sign of failing brakes, it's time to start looking for an auto repair shop. Watch for these indicators of bad brakes:
Squealing or grinding noises
Pungent odors
Skipping or puttering braking
A soft brake pedal
Crunchy braking
Hesitant braking
Brake failure
If you experience any of these problems with your brakes, you should book an appointment with an auto shop as soon as possible.
3. Flat Tire Repair or Replacement
Few things can ruin your day like a flat tire. Whether you have a blowout on the road or find a flat in the morning, having to fix a flat tire can be a real bummer. Luckily, fixing or replacing a flat tire is an auto repair we do all the time here at Tire Works Total Car Care. Our crew has years of expertise and can quickly find a leak, puncture, or loose seal in no time.
While we'll do all we can to fix a flat tire, we have a wide range of tires to choose from if we must replace it. We offer some of the best tire brands on the market and can replace your tire and get you back on the road. With our speedy and quality service, a flat tire doesn't have to ruin your day.
4. Wheel Alignment and Tire Rotation
Speaking of tires, up next on our list of the most common auto repairs is wheel alignment. As you drive, your wheels can get off track and become misaligned in the camber, caster, or toe angle. If any or all these angles are misaligned, it can cause your steering to become ineffective or for your car to lose grip on the road.
Another common auto repair we see is tire rotation. These two are closely related yet accomplish different things. The tread on your tires is designed to grip the road when your wheels are properly aligned. As you drive, the tread of the front tires will wear down faster than that of the back tires. By rotating your tires, you can keep them intact for as long as possible and get the most out of your investment.
When you bring your car to Tire Works Total Car Care for repairs in Las Vegas, we check the condition of your wheels and tires to recommend the best course of action.
5. Auto AC Repair
The intense summer heat can be brutal, especially here in Las Vegas. When your car air conditioner starts blowing warm air or loses airflow, the heat can be unbearable. The AC unit on your car is a series of components that all work to provide cool airflow throughout the cabin of your car. However, if your compressor fails or the Freon needs to be refilled, it can cause discomfort for you and your passengers.
We see a lot of this type of auto repair and can quickly diagnose and address the issue. Whether we need to repair the compressor, replace the air filter, or refill the coolant, our crew will keep your AC running cleanly and coolly.
6. Cooling System Repairs
When your engine and transmission work correctly, they produce massive amounts of heat. The cooling system ensures the heat does not become too much for the major components in your car. However, if this system starts to malfunction, it can mean your engine will overheat. If the motor gets too warm, it will shut down and cease to function.
With the Nevada heat sometimes exceeding 100° Fahrenheit, the cooling system must work extra hard to keep your engine and transmission running properly. That's one reason it's among the most common auto repair needs we tend to hear at Tire Works Total Car Care.
7. Car Battery Replacement
Sometimes, your car just runs out of juice. We can run some tests on your battery and repair it if needed. However, your battery may need to be replaced entirely. When this happens, we offer a wide range of the best brands of car batteries. We'll replace your battery and have you ready to go before you know it.
8. Transmission Repair Services
Now we're hitting some of the major car repair services we provide. Most people know the transmission is essentially what makes the car go forward and protects the engine from overworking. The transmission in your car consists of a series of gears that shift to keep the engine revolutions appropriate for the speed and road. As the transmission operates, it involves several moving parts. If one of the moving pieces of the transmission malfunctions or needs attention, it could involve a major auto repair.
No one wants to hear that their transmission needs repair. If the transmission is experiencing issues, however, we have a few things we can do before diving into a complete transmission repair or replacement.
The first thing we'll do for transmission issues is run some diagnostics. Before we do anything to your transmission, we want to know what's happening. After running some tests, we could try a transmission fluid flush. Removing and replacing the old transmission fluid could help solve the issue.
Unfortunately, sometimes a complete transmission repair or replacement is necessary. If that's the case, it can be done in-house. We promise that any transmission work you need done will be performed by the best-of-the-best ASE-certified mechanics.
Topping It Off
We know there's a lot to consider regarding car maintenance. That's why we're here to help with your auto repair needs. Book an appointment with our crew if you need the services of an auto repair shop in Las Vegas. We'll get you back on the road and keep your engine running smoothly.