Auto Repair In Las Vegas: Guide to Selecting the Best Auto Repair Shop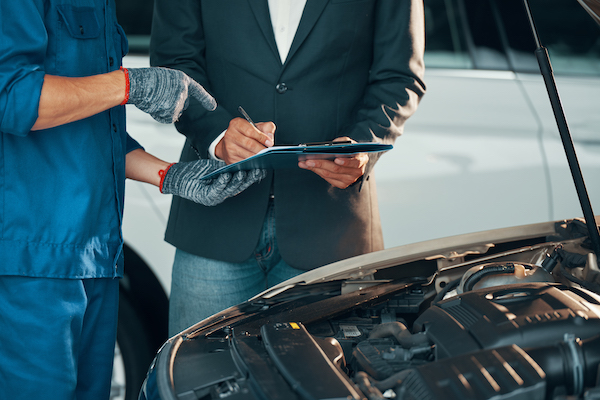 When you need auto repair or maintenance work done, having a reliable shop that you can go to with expert technicians you trust can feel like a weight lifted off your shoulders.
If you're currently looking for a shop that can provide quality auto repair in Las Vegas, it may feel overwhelming at first to try and find the right one for your vehicle. But, a little research can help you zero in on the best shop with an auto mechanic you can count on.
In this guide, we've put together several things to do and to keep in mind that will help you confidently narrow down the options and find the perfect auto repair shop for your needs.
Ask For Honest Recommendations
One of the easiest and most valuable ways to begin narrowing down options for an auto repair shop is to ask the people you trust most for their recommendations. This is a great starting point and your family and friends could be a great source for genuine information. This is especially true if any of those people frequently use one particular auto shop for regular maintenance and repairs.
Ask the people you trust in-depth questions to gain insight into their experiences with local auto mechanics. Like what type of auto service they've had done, their feelings on the quality of service, and pricing.
Look Through Online Reviews
Now that you have narrowed down some options, it could help to look through the auto shops' online reviews from other customers. This unbiased feedback can give you an idea of a shop's local reputation.
You want to look at both positive and negative reviews before deciding on an auto repair shop. Also, keep in mind that in most cases, the shop can control the reviews that are on their website and social media pages. You can get a more uncensored idea by looking at the location's Google or Yelp reviews, which cannot be filtered by the business.
Compare Prices of Local Auto Service
Researching the prices of auto service can also help you narrow things down even further. It's always a good idea to look into the price range estimate of auto repairs in your state or city before taking your vehicle to a shop. Keep in mind, you don't want to choose an auto mechanic just based on price.
Depending on a variety of different factors, the prices of auto service will vary from shop to shop. These factors can include the level of service provided, the shop's popularity, etc. If an auto shop's prices are higher than others in the area, take the time to learn why. It could be because they offer top-notch services to all their customers.
Alternatively, you also want to be skeptical of auto mechanics whose prices seem too good to be true. In this case, the service will more than likely be unreliable or even unethical and you may even end up paying more than you were originally quoted.
Check the Certification & Experience of the Shop's Mechanics
When searching for a good auto repair shop, finding one with expert mechanics is imperative. Checking into the technician's certification and experience is going to help you do just that. A commonality between the best shops is that they employ mechanics that are Automotive Service Excellence (ASE) Master Technician certified. This will help ensure you get excellent service and professionalism.
Other certifications and indications of experience to look for in the shop's customer service area can include the American Automobile Association (AAA), Motorist Assurance Program (MAP), etc.
Mechanics who can confidently handle a variety of vehicle problems have extensive experience working on all different types of vehicles. So, don't be afraid to ask about the level of experience the mechanics at the prospective shop have, how long they've been a mechanic, and how long the service manager has been working in auto repair.
Inquire About Warranties
Be sure to look into any warranties that the shop offers. A good shop will stand behind the quality of their auto service and the parts they use. If there are no guarantees on their services, this is a clear red flag to look elsewhere.
Warranties can differ between shops, so use a common service like brake repair as a gauge and ask any prospective shop ahead of time about what exactly is covered. Also, if you need work done and your vehicle is still covered under manufacturer warranty, you aren't required to only take it to the dealership. Most good auto shops will honor your vehicle's existing warranty. So make sure to ask the shop you are interested in if they will.
Make Sure It's Convenient
When choosing an auto repair shop, you also want to make sure the shop is convenient for you. This means a couple of things. First, make sure that the location is convenient for you to get to. If it's close, you can check on progress more easily and you'll save money on not having to pay extra for pickup or drop-off service.
Also, make sure that the shop's hours are convenient for you. Even the best shop may not be worth it if their hours make it difficult for you to bring your vehicle in without added inconvenience.
Choosing a place that is a one-stop-shop for complete auto service is a huge convenience factor. You shouldn't have to go to multiple places for different services. You want an auto repair shop that you can count on to handle any maintenance or repair your vehicle may need.
Finally, ask about the transportation options available to you after you drop off your vehicle. The best shops will often offer complimentary pickup or drop-off service. Some even provide a free concierge service and will pick your vehicle up and then bring it back after service is completed.
In An Emergency, Don't Make A Hasty Decision
If your car isn't running right and you encounter an emergency repair situation, you may feel desperate to have the problem fixed ASAP. But, don't make a hasty decision in a rush when it comes to deciding on a mechanic, since your judgment may be clouded. Take a step back and still do some research. Doing so will ensure you still receive top-quality service at an affordable price.
Finally, you also want to trust your intuition to help guide you when selecting an auto shop. If you have done your homework, asked the mechanic questions, and visited the shop and something still feels off, your gut feeling will usually always be right.
While going through your final list of options, trust your gut to help you choose an auto mechanic that feels like a fit.
You Can Trust Tire Works For All Your Service Needs
Considering the number of options around, it is completely understandable that it can feel tough to pinpoint the best auto repair shop for your vehicle. But, armed with the information we covered in the guide above, you should be able to make a confident decision that you can count on, no matter what service you may need.
You can trust the team of ASE-certified mechanics here at Tire Works for any of your vehicle's maintenance and repair needs. We strive to be the top auto repair shops throughout Las Vegas and the surrounding areas by providing unparalleled service, answering any questions you may have, meeting all of your auto care needs, and making high-quality auto service affordable.
Schedule your appointment online now!
Auto Repair FAQs
How do you shop around for auto repair?
Shopping around for a Las Vegas auto repair shop can sometimes be exhausting. You'll want to do your research to find an auto shop that has excellent service, several convenient locations, and offers great prices and deals. One of the simplest ways to find a shop that has everything going for it is to check out the auto repair shop's website. From there, you should be able to find their location, what car repair services they offer, and check out some reviews that others have left about their experiences.
With all the options in the area, you could spend hours searching the internet to find auto repair shops in Las Vegas. Or, you could check out what we do here at Tire Works Total Car Care. Our team of ASE-Certified mechanics has the tools, skills, and expertise to handle any of your auto repair needs. Request a quote today for your auto repair.
How do I choose a good mechanic?
When it comes to finding auto repair in Las Vegas, there is no shortage of options. Choosing the right car mechanic can sometimes be a chore, but it's important to have an expert looking after what is under your vehicle's hood. When you search for an auto repair shop, you'll want to determine the quality of their mechanics. Look for mechanics that are ASE-Certified and have a reputation for trustworthy auto repair. Any auto repair shop in Las Vegas worth its salt will have this info on its website.
Second, look for an auto repair shop that has excellent customer reviews. Knowing about other customers' experiences can help you make a good decision. Lastly, look for an auto shop that has a location that is convenient for you. A short drive to the auto repair shop can make a huge difference in your experience.
What car maintenance do I actually need?
Although it may seem like a chore or a waste of time and money, car maintenance is an essential element of car ownership. Your vehicle is not meant to run endlessly without the proper care and attention it needs. It's important to think about your car maintenance as a health check-up for your vehicle. Having an auto shop perform maintenance on your car or truck will help keep it healthy, prevent future auto repair, and save you time and money in the long run. It is far better to avoid auto repair through maintenance than it is to need a repair because of neglect.
Some of the most essential car maintenance services your vehicle needs are:
Fluid checks and refills
Checking belts and hoses
What is the difference between car service and maintenance?
Although they are often used interchangeably, service and maintenance are very different things. Service on your car or truck is performed when something is damaged or not functioning correctly. You can think of service as a reaction to something wrong within your car. Service on your vehicle may be:
Auto repair
Replacing damaged or worn-out parts
Engine service
Maintenance, on the other hand, is something that you have done as a regular part of the upkeep of your vehicle. Maintenance is preventive and ensures the continued functionality of your vehicle. Another way to think about it is that car maintenance keeps you from needing more extensive auto repair services.
Common maintenance includes:
Tire rotation
Fluid checks
Are local repair shops cheaper than dealerships?
Oftentimes, a local auto repair shop is going to have better prices than a dealership. This is especially true when it comes to auto repair in Las Vegas. In general, dealerships are far larger than a local auto repair shop and focus on many things at once. This means that the dealership typically has higher costs so they'll need to set higher prices in order to stay profitable.
Additionally, you will rarely see a dealership offer the same level of deals or promotions to their customers. A local auto shop, on the other hand, will frequently have specials to save their customers some cash. Here at Tire Works Total Car Care, we know that saving money is a top priority for our customers. That's why we vow to offer quality service at a fair price. Schedule an appointment today, and let us be your Las Vegas mechanic.
What happens if I don't service my car?
It depends on what auto repair service you need. While ignoring your car service and maintenance is never a good idea, there are some that can have disastrous consequences if they are left un-serviced. Take, for example, changing your engine oil. If left unchanged, your engine will have dirt, debris, and ineffective oil circulating through the engine. This could lead to damage to your engine and would eventually cause a significant mechanical breakdown.
In most cases where auto repair is needed, ignoring it will ultimately lead to a breakdown or even an accident. In the end, getting the auto repair service your car needs is a much safer and cheaper option than letting it continue to deteriorate.
Can I ask a mechanic for a quote?
Absolutely! Requesting a quote before having your auto repair done is a standard practice here at Tire Works Total Car Care. We completely understand that you want to find the best auto repair in Las Vegas for the best price. That's one reason why we make it simple and convenient to request a quote from our team. Whether you know the issue with your vehicle or need us to run some diagnostic tests, our team of expert mechanics can provide a quote before performing the service.
We make it simple to have an estimate done for your auto repair. All you have to do is fill out the request a quote form, and one of our team members will respond to you shortly. We take our customer service seriously and will get in touch with your auto repair quote as soon as possible.
Can Tire Works Total Car Care perform my auto repair if my vehicle is under the dealer warranty?
Definitely. While under warranty, you are not obligated to take your vehicle to the dealership for auto repair. Our team offers superior service and quality materials that meet the requirements of your warranty so you never have to worry about voiding your dealership warranty by bringing your vehicle to a local Las Vegas auto shop like Tire Works Total Car Care.
With our team of ASE-Certified mechanics performing your vehicle service, you receive the same level of high-caliber service that you might expect from your dealership.
What is an ASE-Certified car mechanic?
An Automotive Service Excellence (ASE) certification involves extensive training and testing to obtain. An ASE certification is the gold standard of knowledge and service in the auto repair industry. With the program's additional requirements, an ASE-certified mechanic essentially gains a Master's degree in automotive repair and service. Every car mechanic who graduates with the ASE certification has undergone rigorous training and intense skills testing. By the time they finish, ASE-Certified mechanics are the best of the best.
Here at Tire Works Total Car Care, we are proud to have a team of ASE-Certified technicians and car mechanics. We only hire top candidates to handle auto repair and service so that our customers have a stellar experience at our Las Vegas auto shop. You can trust our team with any service your vehicle may need.
What do I do when my check engine light is on?
The check engine light coming on can sometimes be a frightening experience. Though there are a lot of questions running through your mind, there is no need to panic. The check engine light can mean several different things, and not all of them mean an expensive trip to the auto shop. Most often, the check engine light is triggered by a sensor that either detects an actual issue or is malfunctioning slightly.
If the former is the case, our team can quickly run a diagnostic test to determine the problem. If a sensor is malfunctioning, our state-of-the-art instruments can assess that issue, and we can correct it for you. Once we know what is going on in your vehicle, we can recommend any car repair or service you may need.
What are some signs that I need auto repair?
Your vehicle is excellent at telling you when something is not quite right. In most modern cars, there are multiple sensors that can detect an issue and will illuminate an indicator on your dashboard. However, you can also watch for any of these warning signs:
Trouble shifting between gears
Difficulty starting the engine
Skipping or vibrating while idling
Strange noises
Thudding or jerking while driving
Squealing brakes
Foul odors coming from the engine
If you notice any of these signs or something just doesn't feel right, schedule an appointment today, and let our team take care of you.