Auto Repair In Las Vegas: Guide to Selecting the Best Auto Repair Shop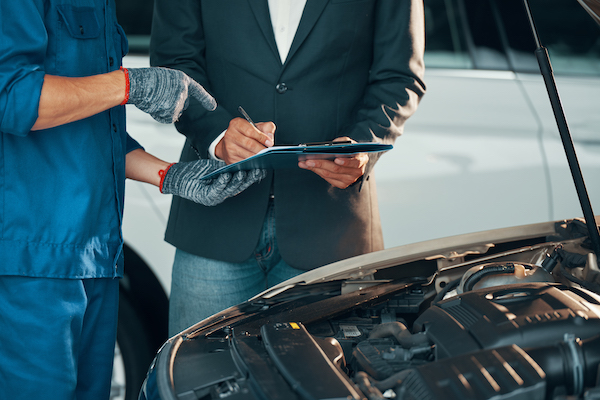 When you need auto repair or maintenance work done, having a reliable shop that you can go to with expert technicians you trust can feel like a weight lifted off your shoulders. 
If you're currently looking for a shop that can provide quality auto repair in Las Vegas, it may feel overwhelming at first to try and find the right one for your vehicle. But, a little research can help you zero in on the best shop with an auto mechanic you can count on. 
In this guide, we've put together several things to do and to keep in mind that will help you confidently narrow down the options and find the perfect auto repair shop for your needs.
Ask For Honest Recommendations
One of the easiest and most valuable ways to begin narrowing down options for an auto repair shop is to ask the people you trust most for their recommendations. This is a great starting point and your family and friends could be a great source for genuine information. This is especially true if any of those people frequently use one particular auto shop for regular maintenance and repairs.
Ask the people you trust in-depth questions to gain insight into their experiences with local auto mechanics. Like what type of auto service they've had done, their feelings on the quality of service, and pricing.
Look Through Online Reviews
Now that you have narrowed down some options, it could help to look through the auto shops' online reviews from other customers. This unbiased feedback can give you an idea of a shop's local reputation.
You want to look at both positive and negative reviews before deciding on an auto repair shop. Also, keep in mind that in most cases, the shop can control the reviews that are on their website and social media pages. You can get a more uncensored idea by looking at the location's Google or Yelp reviews, which cannot be filtered by the business.
Compare Prices of Local Auto Service
Researching the prices of auto service can also help you narrow things down even further. It's always a good idea to look into the price range estimate of auto repairs in your state or city before taking your vehicle to a shop. Keep in mind, you don't want to choose an auto mechanic just based on price.
Depending on a variety of different factors, the prices of auto service will vary from shop to shop. These factors can include the level of service provided, the shop's popularity, etc. If an auto shop's prices are higher than others in the area, take the time to learn why. It could be because they offer top-notch services to all their customers. 
Alternatively, you also want to be skeptical of auto mechanics whose prices seem too good to be true. In this case, the service will more than likely be unreliable or even unethical and you may even end up paying more than you were originally quoted.
Check the Certification & Experience of the Shop's Mechanics
When searching for a good auto repair shop, finding one with expert mechanics is imperative. Checking into the technician's certification and experience is going to help you do just that. A commonality between the best shops is that they employ mechanics that are Automotive Service Excellence (ASE) Master Technician certified. This will help ensure you get excellent service and professionalism. 
Other certifications and indications of experience to look for in the shop's customer service area can include the American Automobile Association (AAA), Motorist Assurance Program (MAP), etc.
Mechanics who can confidently handle a variety of vehicle problems have extensive experience working on all different types of vehicles. So, don't be afraid to ask about the level of experience the mechanics at the prospective shop have, how long they've been a mechanic, and how long the service manager has been working in auto repair. 
Inquire About Warranties
Be sure to look into any warranties that the shop offers. A good shop will stand behind the quality of their auto service and the parts they use. If there are no guarantees on their services, this is a clear red flag to look elsewhere. 
Warranties can differ between shops, so use a common service like brake repair as a gauge and ask any prospective shop ahead of time about what exactly is covered. Also, if you need work done and your vehicle is still covered under manufacturer warranty, you aren't required to only take it to the dealership. Most good auto shops will honor your vehicle's existing warranty. So make sure to ask the shop you are interested in if they will.
Make Sure It's Convenient
When choosing an auto repair shop, you also want to make sure the shop is convenient for you. This means a couple of things. First, make sure that the location is convenient for you to get to. If it's close, you can check on progress more easily and you'll save money on not having to pay extra for pickup or drop-off service. 
Also, make sure that the shop's hours are convenient for you. Even the best shop may not be worth it if their hours make it difficult for you to bring your vehicle in without added inconvenience.
Choosing a place that is a one-stop-shop for complete auto service is a huge convenience factor. You shouldn't have to go to multiple places for different services. You want an auto repair shop that you can count on to handle any maintenance or repair your vehicle may need.
Finally, ask about the transportation options available to you after you drop off your vehicle. The best shops will often offer complimentary pickup or drop-off service. Some even provide a free concierge service and will pick your vehicle up and then bring it back after service is completed.
In An Emergency, Don't Make A Hasty Decision
If your car isn't running right and you encounter an emergency repair situation, you may feel desperate to have the problem fixed ASAP. But, don't make a hasty decision in a rush when it comes to deciding on a mechanic, since your judgment may be clouded. Take a step back and still do some research. Doing so will ensure you still receive top-quality service at an affordable price.
Finally, you also want to trust your intuition to help guide you when selecting an auto shop. If you have done your homework, asked the mechanic questions, and visited the shop and something still feels off, your gut feeling will usually always be right.
While going through your final list of options, trust your gut to help you choose an auto mechanic that feels like a fit.
You Can Trust Tire Works For All Your Service Needs
Considering the number of options around, it is completely understandable that it can feel tough to pinpoint the best auto repair shop for your vehicle. But, armed with the information we covered in the guide above, you should be able to make a confident decision that you can count on, no matter what service you may need.
You can trust the team of ASE-certified mechanics here at Tire Works for any of your vehicle's maintenance and repair needs. We strive to be the top auto repair shops throughout Las Vegas and the surrounding areas by providing unparalleled service, answering any questions you may have, meeting all of your auto care needs, and making high-quality auto service affordable.